yesterday, Dale's school had a talent contest for
Autism Month
. Dale was one of the contestants for dance. When we got to the school, I already noticed that there will be a slight problem. All the kids were in their P.E. uniform, whilst Dale was in his regular one.
Dale stopped walking. Since I was holding his hand, i felt him go tense.
uh-oh.
Then his teacher (T'Mila) called me and said he should've been in maong pants and polo shirt. She said she told Dale that. The yaya said that T'Evelyn told her that he should just wear the uniform.
Of course, i was a little pissed. I called the yaya up to bring proper clothes, but when she got there, Dale would not want to change. He said that changing clothes is a house task. He cannot change clothes in school.
dilemma. dilemma. sweat coming out of my neck.
then he said he'll just dance in his uniform since T'Mila said it was okay. And much to my surprise, delight, and Godknowswhatelse, he did. even if it was raining.
the crowd was roaring, clapping and jumping with delight. He danced to the Pinoy Big Brother theme song,
Pinoy Ako
. I also noticed that he was getting tense whenever he forgets the steps, but he finished the song.
i was ecstatic.
good thing i brought the video camera. i caught it on tape so my folks can see it when they got back from the States.
and then, as if it wasn't enough... he won
First Prize
for it.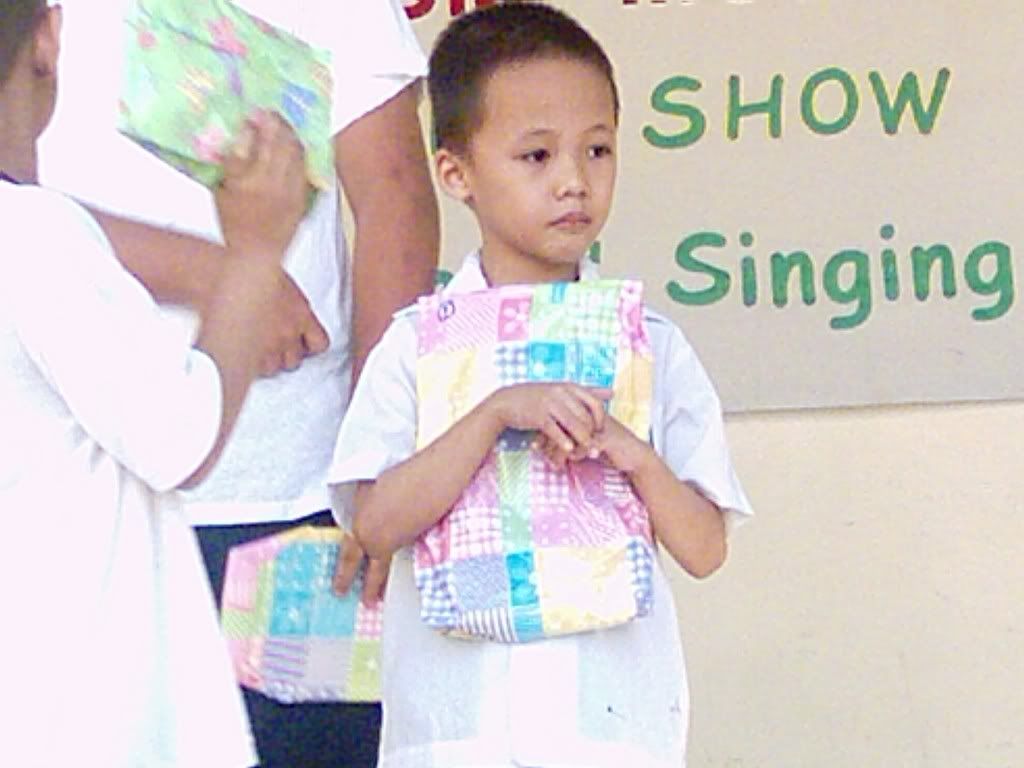 im so happy, happy, happy, happy.
what i'm not happy about though is the fact that i'm on dial-up and couldn't upload all of the photos easily since they're from a digicam and the file is a little big. Here are some of the pictures that i did finish uploading to
Photobucket
...
Dale with his current teacher, Mila
Dale with a former classmate
me with a student who was fascinated with my digicam
Dale's version of 'I'm chinese.'
and 'i'm so angry i could eat you.'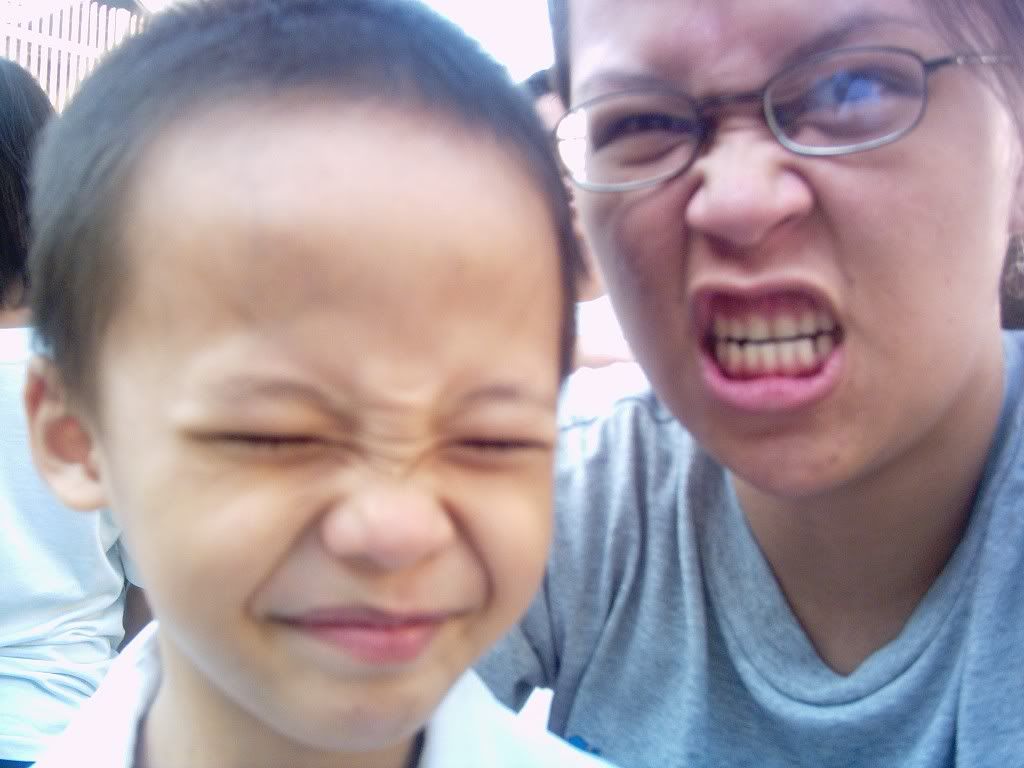 his former teachers
some of the teachers and the principal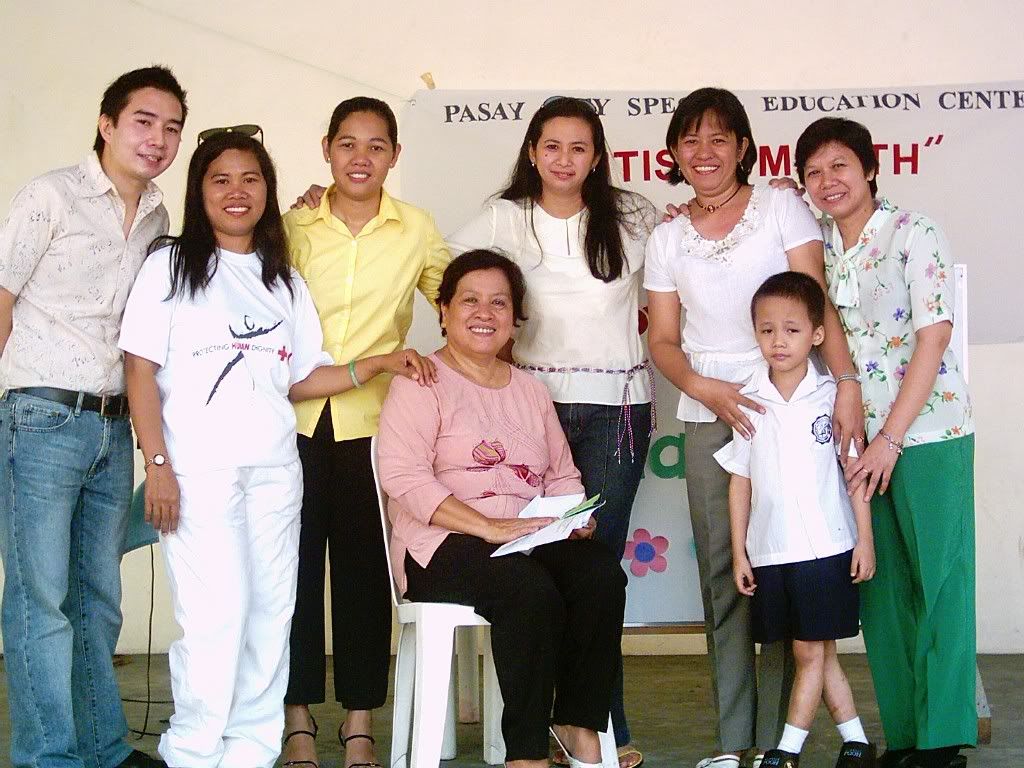 since it was also the principal's birthday, the kids surprised her with a nice, tearjerker of a song--Iingatan Ka... a lot of the kids, parents, and teachers cried while they sang. they also presented her with flowers and her favorite--orchids.
the school that Dale is in now is Pasay City SPED Center. Even if it was a public school, i'm happy to say that Dale improved a lot, the teachers are qualified, the principal very supportive, the staff courteous, the building clean, and the classrooms airconditioned.
we owe them a lot to the constant improvement of my son, and all of the special children under their care.
~*~*~*~*~*~*~*~*~*~
Mai and I was able to complete our clearance yesterday, and i'm relieved that i can now just wait for my last paycheck and not go through much hassle.
After that, we sort of bullied Anne into taking us to the movies and Starbucks after.
There wasn't much to talk about and we all felt a little gloomy 'coz officially, we're not gonna be with each other often. Anne was the saddest of our trio 'coz she still has to endure the agony of being with the company and it's people.
I, on the otherhand, was soooooo sad about the fact that our paycheck will be ready in 1-2 months... i'm now thinking and sweating... the bills are due on the 20th... and i don't have any money....
oh God, oh God, oh God.
what now?
~*~*~*~*~*~*~*~*~*~
i'm currently looking for work... but there's this nagging, painful, heartwrenching sensation in all parts of my body... i think it's called
KATAM
.
i really don't want to work for another call center company again... i really want to teach now... but of course, job openings for teachers will start on March... and the fact that there will be a lot of applicants by then...
hm....
~*~*~*~*~*~*~*~*~*~
genie, oh genie.... where art thou, my rich genie?