Yesterday, Tony had a parade at school. It was
Nutrition Month
. Early in the morning I had to find a basket with vegetables. I was able to borrow a basket and fill it up with greens, but, teehee... he didn't even bring it, I was the one carrying it the whole time.
He had this big
CAPITAL 'S'
or 'sumpong' as we parents call it. He cried pa nga, for no apparent reason... Hay... sometimes, I get the feeling that something's changing him... He's becoming such a handful... and his attitude is veering towards the 'feminist' type... screaming, hitting... basta... di ko mapinpoint. Hay...
Well, we didn't finish the parade coz it was so tiring... When the parade stopped in front of our street, we made a beeline for the house. hahaha... bad.
this is one of his decent picture there.
================================================================
When we went home, I just cooked lunch, clean the DVD player coz the CDs won't run anymore... then slept.
Weird thing.
When I was fixing dinner for my kids, my left hand locked itself up. It got hard, and i couldn't move it. Posed like a sick claw. My heart raced. I instantly prayed. My nerves showed so violet and green on my hand. I thought, what is happening. A tear almost fell.
I had to call Anea to clear the dishes and wash them. After 5 minutes, I could move it again.
It was scary.
================================================================
When we went to the doctor for follow-up last Wednesday, he was talking about a
new protocol
... he wanted me confined for 3 days, every other month... for 6 mos... since the steroids are giving me a hard time... he wanted alternate steroids and IV injections.
I mean, he might be an excellent doctor, but sometimes, i have doubts.. he even looked at an old patient's record and compared my case to him.. I mean, why?
so, i said, it will be a problem for us coz i dont have any limit to my insurance anymore. so, i requested for my medical records and will just ask for a second opinion, maybe directly from the National Kidney Institute or the PGH.
i hate my bruises that wouldn't go away... *HMP*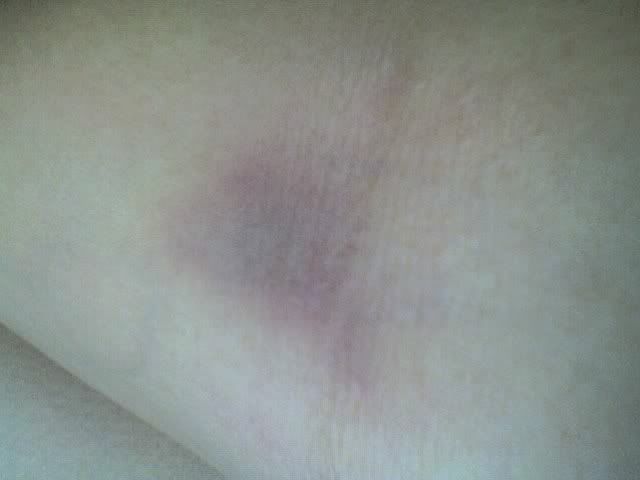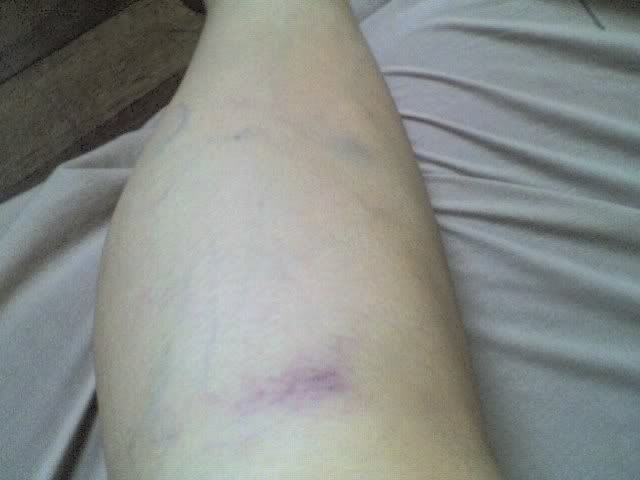 This disease is eating up my life and I won't have it. There must be something else besides these options.
================================================================
i'm excited about the fact that
PeelHere
will meet again this Saturday... I miss you guys a lot, especially all the night-outs just chillin' at Starbucks... watching movies and stuff...
i'm a little apprehensive though at how i look now... mala-Jollibee ang dating kasi ng pisngi ko ngayon coz of these darn steroids... i don't know how you guys will take the new look... sigurado akong pipisilin niyo ang pisngi ko... hehehe...
well, anyway... excited pa rin ako...
================================================================
i had to repost this coz i wanted to add that this morning i just had a haircut... hehehe... as i said, i am feeling down and wanted a pick-me-up... Actually, Tony had a haircut, too... and we went out for a while to go buy a toy guitar he wanted from the market... there was a new salon open that is actually cheap... the haircut was just 40 bucks... and the hot oil treatment only a hundred bucks.
i didn't count on getting my hair this short, coz, well, i have curly hair... but i let the guy chop it off the way he wanted it to... wala lang... katamad lang makipag-argue or something... i thought, if it will look bad, then fine... it'll grow back anyways...
i didn't count on him straightening it with an iron... a nice iron actually, with the ceramic plates and all... when i got home, i looked strange... but my mom liked it... hehehe... if i could just keep it that way, though... but alas... i know my curls will come back tomorrow... hahaha...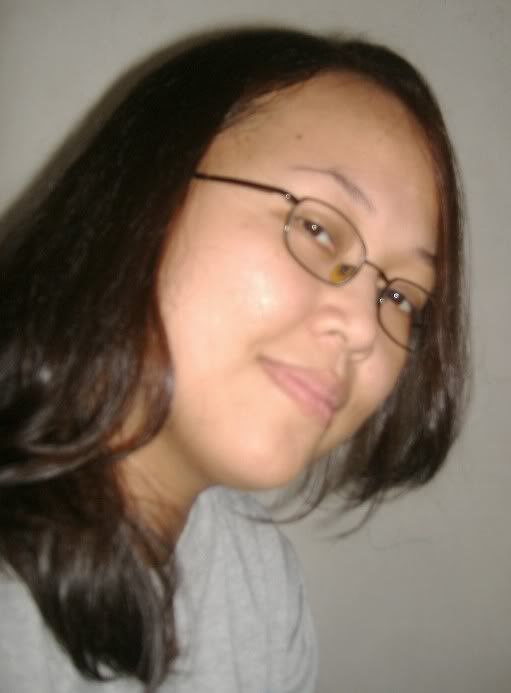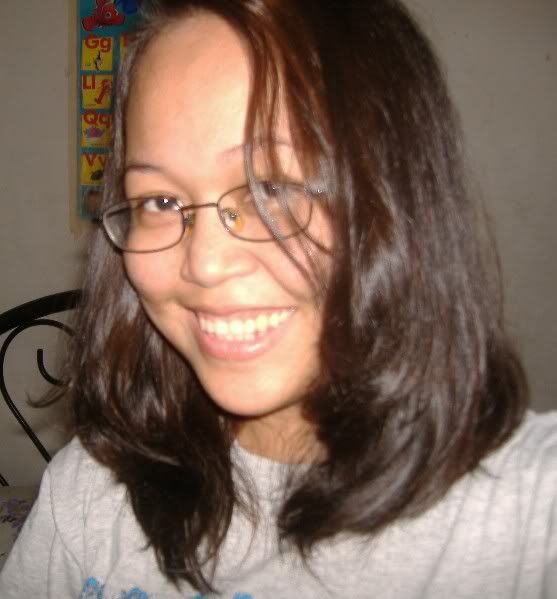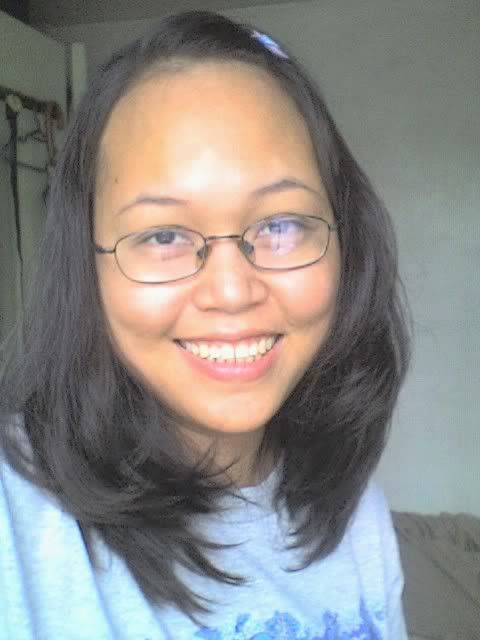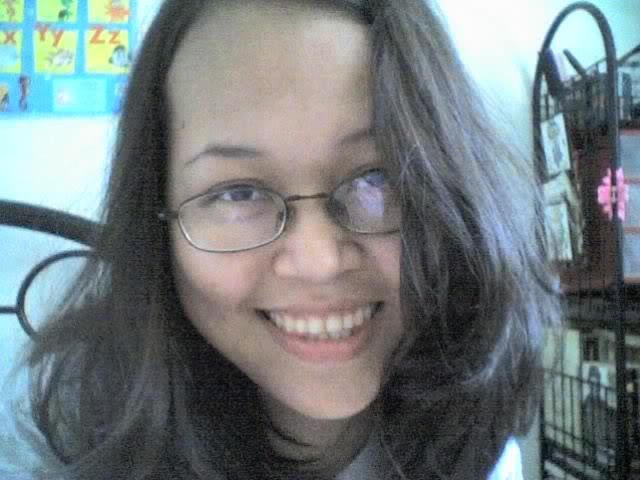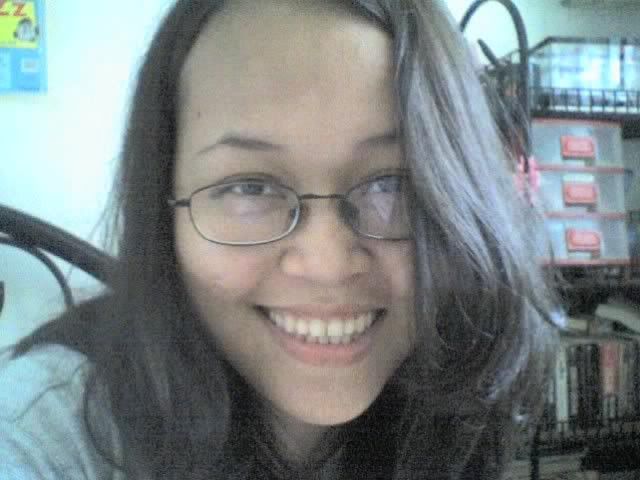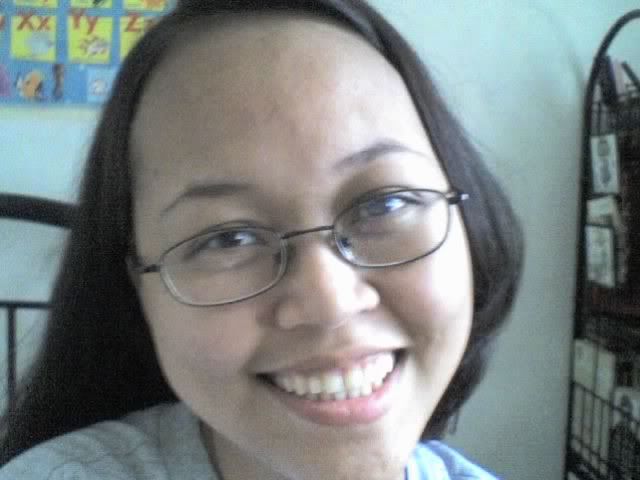 ================================================================
My mom sent this to me via email... It cracked me up.
Filipino gets a Job at Wal-Mart
The HR manager at Wal-Mart was given the task of hiring an individual to fill a job opening. After sorting through a stack of resumes he found four people who were equally qualified -- an American, a Russian, a Canadian and a Filipino.
He decided to call the four in and ask them only one question. Their answer would determine who of them would get the job.
The day came and as the four sat around the conference room table the interviewer asked,
"What is the fastest thing you know?"
Dave, the American, replied, "A THOUGHT. It just pops into your head. There's no warning that it's on the way; it's just there. A thought is the fastest thing I know of." "That's very good!" replied the interviewer.
"And now you sir?" he asked Vladimir, the Russian. "Hmm.... let me see. A blink! It comes and goes and you don't know that it ever happened. A BLINK is the fastest thing I know." "Excellent!" said the interviewer. "The blink of an eye, that's a very popular cliche for speed."
He then turned to George, the Canadian who was contemplating his reply. "Well, out at my dad's ranch, you step out of the house and on the wall there's a light switch. When you flip that switch, way out across the pasture the light in the barn comes on. Yep, TURNING ON A LIGHT is the fastest thing I can think of." The interviewer was very impressed with the third answer and thought he had found his man.
"It's hard to beat the speed of light" he said.
Turning to Eleuterio, the Filipino, the fourth and final man, the interviewer posed the same question. Eleuterio replied, "Apter herring da 3 preybyus ansers sir, et's obyus to me dat the fastest thing is Diarrhea." "WHAT!?" said the interviewer, stunned by the response. The others were already giggling in their seats...
"Oh, I can expleyn sir,." said Eleuterio. "You see, sir, da ader day my tummy was peeling bad and so I run so fast to the CR, but before I could THINK, BLINK, or TURN ON THE LIGHT, 'tang ina, sir,
I had alreydi shit in my pants!
"
Eleuterio is now the new "Greeter" at Wal-Mart.